The professional faculty days at the start of this school year included a reflection on key words that would serve to guide us both as an institution and as individuals. Drawing from EAB's mission statement, words such as innovate, excellence, service, and leadership were identified as guiding ideals. Others added inspiration, community, and relationships as words that also resonated with the work of educators. While I embrace all of these key words, I also spent time during the holiday reflecting on the word hope, both in the context of our work with children and a recent experience shared by my sister.
April is my younger sister, a mother of five-year-old twin boys, a Royal Mounted Canadian Police Officer (RCMP or "Mountie"), and a volunteer working on several service projects. During my visit in June, we reflected on the numerous objectives linking educators and law enforcement officers in terms of their hopes to make a positive and lasting contribution to those who they have the privilege to serve. It is this hope, sometimes latent, sometimes explicit, that is often the driving force that inspires individuals to make a positive difference. When April shared an article she wrote about a personal experience, her focus on hope was a cause for reflection on EAB's mission. Before reflecting on EAB, however, I would like to share her article, "Hope Collides" (Dequanne, 2011):
It is Wednesday 7:00 AM and the Sergeant calls the team in for a meeting. "We have a new lead on "Jamal", but we need to move in quickly." Jamal was a name I recognized; we have been trying to locate him for weeks with little success. He is wanted on an immigration warrant for removal from Canada for serious criminal offences committed here in Canada. "We have Intel that he is armed and dangerous, and is only visiting his 'baby mom' over the next two days," the sergeant states. "And once we have visual, we'll get a warrant to gain access to the apartment and arrest him." The sergeant went on to explain that Jamal is six feet tall, two-hundred and thirty pounds, and has a lengthy criminal record, including drugs and weapons charges – we should be vigilant.
It's Tuesday, 3:00 PM, I've locked my guns and handcuffs away for the day and I've removed by soft body armor and replaced it with a T-shirt that says "COACH" across the back. I was on my way to the Running and Reading (R&R) Club at a middle school in Thistle town, a tough neighbourhood in Toronto. Every Tuesday during the school year, I have the privilege of mentoring kids on how to achieve their goals through fitness and literacy. Our hope is to shorten the gap between the "haves" and "have-nots". It's a duty I feel just as strongly about as being a member of the RCMP. The kids have come to know me a "Coach April" and do not know that I am a police officer. Police/community relations are not at its best in Thistle town, and I prefer the kids know me as Coach April and not "Police Officer April".
Wednesday, 8:03 AM, and I'm sitting in my van in the apartment parking lot of our target. I see kids exiting the building by the dozens, some with parents, some without, and some with backpacks and lunch bags, some without. I think to myself, "No way would I let my child walk to and from school alone." Just last week there was a shooting in the community centre next to the school and a CRIPS versus BLOOD gang war was raging. As kids filed past my van, I slumped low in my seat and gave a silent prayer that the kids would not see me. We were working uncomfortably close my Running and Reading school.
Tuesday, 4:08 PM: "Coach April, can you help me tie my shoes?", asks Benjamin. "Sure little buddy, then you can show me how fast you can run." I bent over and tied-up his shoes. Benjamin's shoes appeared far too big for his feet, and are well worn, with the soles beginning to peel off at the ends, but Benjamin seemed to float effortlessly across the gym floor with them securely tied on.
Wednesday, 8:18 AM: we're lined up outside the apartment door, weapons drawn, and ready to make our entry. We believed Jamal was inside along with his "baby mom" and whoever else may be inside the apartment. We have been watching the apartment since our early arrival and there seemed to be no movement inside and nobody has come or gone. We approach quietly, I could hear my heart pounding, I could hear the quiet breathes of a teammate behind me. A teammate approaches the front of the door carrying the fifty-pound metal door ram (what we affectionately call the "Master Key to the City"). Our Master Key was poised and ready for use.
Back to Tuesday 4:36 PM: When you're waiting for something good to happen to you." That is the definition of "hope" given to us by one of our R&R kids. Each week we introduce a new character building word; you see, the Running and Reading Club is not just about running and reading. We also provide a social-development-rich environment so that when things get tough for kids, they have an arsenal of character attributes to draw from for personal protection and resilience.
Back to Wednesday, 8:23 AM: Like slow motion, I see the door ram swing like a giant wrecking ball on a crane, the door shakes, the door frame cracks, and the deadbolt lock ricochets into the air. "POLICE!" The silence is broken, I no longer heard the pounding of my heart or the breathing. We are all making our presence known, and once inside the apartment quickly realize that there are more people inside than our initial projections.
Tuesday 4:42 PM: I'm reading from the book, Terry Fox, A Story of Hope. Sixty kids who have run out of energy are sitting quietly, hanging on every word I read. Sixty pairs of eyes and ears were looking to hear about "hope" from Coach April.
Wednesday, 8:24 AM: We know who Jamal is and what threat he poses, but we don't know who the other three adults in the apartment are. Immediately the need to secure everyone is paramount to our safety. Unfortunately the individuals inside the apartment don't understand and the fight is on.
Tuesday, 4:44 PM: "Coach April, how come Terry never gave up?" A little voice from the back of the room enquires. "Because Terry was very brave," I respond.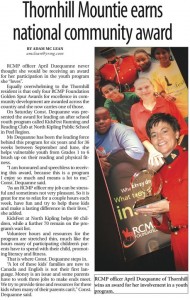 Wednesday, 8:25 AM: I've wrestled Jamal to the ground and a teammate is positioned to put the handcuffs on him when I get a tap on the shoulder. I can hear my heart pounding, I hear the breathing and in slow motion, I turn not knowing the threat, ready to strike, and it is like I am hit! A feeling of nausea fills my being; I shake my head as if the blinding will go away.
Tuesday, 4:58 PM: Clean up is done and we're preparing to send the kids on their way home. "Remember to practice hope this week and be brave like Terry, because sometimes hope is found in the brave things we do." The kids, tired from the hour of running, their minds filled with a story, and hearts filled with hope, exit in a mad rush.
Wednesday 8:27 AM: "Coach April"…. I'm hit again, blind-sided, not with a fist or some inanimate object, but with a set of big brown eyes, filled with hope. I jump up and grab Benjamin to remove him from the living room, hoping to protect him from seeing what is about to happen to his father, Jamal.
Thursday 7:30 AM, in the office boardroom, I'm quiet in the debriefing of yesterday's arrest of Jamal. Gripped with the sorrow I felt for Benjamin, I don't have the energy to add to the conversation. Distracted, I sit silently with hope that Benjamin understood that on Tuesday I'm "Coach April" and Wednesday I was "Police Officer April" and on both days, I'm just trying to provide hope.
Be brave Benjamin, be brave!
April's real-life story reminded me of the importance of hope in an educational institution. While Benjamin's day-to-day reality may be foreign to most of us, a child's hope to be supported, loved, guided, and nurtured is common among all children, irrespective of context. In our data-driven world, we understandably tend to avoid words such as strive and hope but, when dealing with a future we usually have little control over, a deference to hope is, at times, fitting.
While we cannot control the future, we do influence the present through our responsibility to provide the best whole-child educational program possible. In Kahlil Gibran's poem, "On Children", he employs a poignant metaphor to describe this relationship between adults and children: "You are the bows from which your children as living arrows are sent forth."
It is our bows, representing schools and families, that must be strong yet flexible, visionary yet grounded, and steady yet understanding. We can then hope, with confidence, that our work in the present will ensure our "arrows" are guided with speed and accuracy towards their respective potentials.
So, what are my hopes for the year ahead? It is my hope that no one ever gives up on a child. It is my hope that all of our students achieve their whole-child potential. It is my hope that EAB makes a positive difference in the lives of everyone who connects with our community. And, through the further development of meaningful partnerships to support student learning and the relentless pursuit of excellence and continuous improvement, it is my hope that our work in the present will provide the foundation for a lifetime of fulfillment and achievement.
It is through our collective hard work and an unwavering commitment to a shared vision that our hopes are transformed into expectations, our expectations into positive outcomes, and our positive outcomes into a life of realized potentials and fulfilled dreams for our students.
Barry Dequanne
Head of School
American School of Brasilia
Reference: Dequanne, A. (2011). Hope Collides. In: Sheedy, A (Ed.). Red coat diaries: true stories from the Royal Canadian Mounted Police (pp. 142-144). Oakville, ON: Mosaic Press.
Featured image: cc licensed ( BY NC ND 2.0 ) flickr photo by david.ian.roberts: http://www.flickr.com/photos/dirpics/195603091/lightbox/
---
Os dias do nosso corpo docente no início desse ano escolar incluíram uma reflexão de palavras-chave que serviriam para nos guiar como instituição e como indivíduos em toda a escola. Extraidas da missão da EAB, palavras como inovar, excelência, serviço e liderança, foram identificadas como possíveis ideiais de orientação. Outros incluiram inspiração, comunidade e relacionamentos, como palavras que ressoaram com o nosso trabalho como educadores. Ao reunir todas essas palavras-chave, eu também passei algum tempo durante o feriado refletindo sobre a palavra esperança, tanto no contexto do nosso trabalho com as crianças, como também numa experiência recente que a minha irmã teve.
April é minha irmã mais nova, mãe de gêmeos de cinco anos de idade, uma ofical da polícia montada do Canadá (RCMP) e voluntária, onde trabalha com uma variedade de projetos. Durante uma visita, em junho, nós refletimos sobre as inúmeras conexões entre o trabalho de educadores e policiais, referente ao trabalho com a comunidade, com a esperança de fazer uma contribuição positiva e duradoura para os quais educadores e administradores têm o privilégio de servir. E é isso, as vezes latente, essa explícita esperança, que muitas vezes é a força motriz que inspira aqueles que buscam fazer a diferença. Quando April compartilhou comigo um artigo que ela escreveu sobre uma experiência pessoal, seu foco na esperança era um motivo de reflexão sobre o nosso trabalho coletivo na EAB.
Antes de refletir sobre a EAB, porém, eu gostaria de compartilhar seu artigo:
" A esperança colide"
Quarta-feira – 7:00 horas: O sargento chama a equipe para uma reunião. "Nós temos uma nova pista sobre "Jamal", mas precisamos nos mover rapidamente. Jamal é um nome que eu reconheço, temos tentando localizá-lo durante semanas, sem sucesso. Ele é procurado por um mandado de imigração para a sua extradição devido a crimes graves cometidos aqui no Canadá. Temos informações que ele está armado e é perigoso e só veio para visitar a "mãe do seu bebê" , durante os próximos dois dias. O sargento afirma que uma vez tendo contato visual, vamos conseguir um mandato para entrarmos em seu apartamento e prendê-lo. O sargento explicou que Jamal tem 1,82 metros de altura e pesa 104 quilos, e tem uma ficha criminal extensa incluindo drogas e porte de armas, devemos estar vigilantes".
Terça-feira – 03:00 horas: Eu havia trancado minhas armas e algemas, havia removido minha armadura do corpo e vesti uma camiseta que tinha TREINADOR escrito nas costas. Eu estava no caminho para o Clube de Corrida e Leitura em uma escola na cidade de Thistle. Toda terça-feira, ao longo do ano escolar, eu tenho o privilégio de ensinar crianças sobre como atingir seus objetivos através do fitness e da alfabetização. Nossa esperança é diminuir a distância entre "o ter e o não ter". É um dever pra mim, eu me sinto tão forte com esse trabalho quanto ao que faço na polícia RCMP. As crianças me conhecem como "Treinadora April" e elas não sabem que eu sou uma policial. A relação Polícia/Comunidade não é das melhores na cidade de Thistle e eu prefiro que as crianças me conheçam como a "Treinadora April" e não como a "Policial April".
Quarta-feira –  08:03 horas: Eu estou sentada na minha van de vigilância no estacionamento do apartamento do nosso alvo. Eu vejo dúzias de crianças que saem do edifício , alguns com os pais, alguns sem, alguns com mochilas e lancheiras do almoço, alguns sem. Então eu penso comigo mesma, jamais deixaria meu filho andar para a escola sozinho. Na semana passada houve um tiroteio no centro comunitário ao lado da escola e uma guerra entre guangues estava acontecendo. Enquanto as crianças passavam em frente a minha van, eu me abaixei no banco e orei pedindo que as crianças não me vissem. Nós estávamos trabalhando muito perto da minha escola de corrida e leitura.
Terça-feira – 16:08 horas: "Treinadora April, você pode me ajudar a amarrar meus sapatos?" Pede Benjamin. "Claro, amiguinho! Daí você pode me mostrar o quão rápido você pode correr". Entáo eu me curvei e amarrei seus sapatos. Os sapatos do Benjamin pareciam grande demais para seus pés e bem desgastados ​​com a sola começando a descascar nas pontas, mas Benjamin parecia flutuar sem esforço em todo o piso do ginásio com eles bem amarrados aos seus pés.
Quarta-feira – 08:18 horas: Estamos parados do lado de fora do apartamento e prontos para fazer a nossa entrada. Acreditamos que "Jamal" está dentro, junto com a mãe do seu bebê e quem quer que esteja dentro do apartamento. Estamos observando o apartamento desde cedo quando chegamos e parece não haver nenhum movimento dentro e até o momento, ninguém chegou ou saiu. Nós nos aproximamos calmamente, eu posso ouvir meu coração batendo forte, posso ouvir a silenciosa respiração de um colega de equipe atrás de mim. Um companheiro de equipe se aproxima da porta da frente levando um aríate (carinhosamente chamada de chave mestra da cidade). Nossa chave mestra está preparada e pronta para uso.
Terça-feira – 04:36 horas: "Quando você está esperando algo de bom acontecer com você". Esta é  a definição de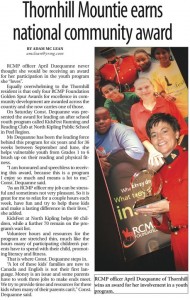 "esperança" que nos foi dada por uma das nossas crianças da escola de Corrida e Leitura. Cada semana vamos introduzir a construção de um novo personagem como palavra do dia. Você pode ver que o clube de corrida e leitura não é apenas correr e ler, nós também fornecemos um ambiente rico em desenvolvimento social, de modo que, quando as coisas ficam difíceis para as crianças, eles têm um arsenal de personagens para  extrair para a sua proteção pessoal e resiliência.
Quarta-feira – 08:23 horas: Como em câmera lenta, eu vejo o balanço do aríate como uma bola de demolição gigante em um guindaste. A porta treme, a moldura da porta racha e a trava da porta vai pelos ares. "Polícia"! O silêncio é quebrado, eu já não ouvia as batidas do meu coração ou a minha respiração. Anunciamos a nossa presença e uma vez dentro do apartamento, rapidamente percebemos que haviam mais pessoas no apartamento do que pensamos nas nossas projeções iniciais.
Terça-feira – 04:42 horas: Estou lendo o livro Terry Fox, Uma História de Esperança. Sessenta crianças que ficaram sem energia estão sentadas em silêncio, atentas a cada palavra que eu li. Sessenta pares de olhos e ouvidos estavam olhando para ouvir sobre a "esperança" da Treinadora April.
Quarta-feira – 08:24 horas: Sabemos quem é Jamal e qual ameaça que ele representa, mas não sabemos quem são os outros três adultos no apartamento . Imediatamente a necessidade de garantir a segurança de todos é fundamental para nós. Infelizmente, as pessoas no interior do apartamento não entendem e a luta começa.
Terça-feira – 4:44 horas: "Treinadora Aprill, como é que Terry nunca desistiu?" Perguntou uma voz baixa nos fundos. "Porque Terry foi muito corajoso", eu respondo.
Quarta-feira – 08: 25 horas: Eu joguei Jamal para o chão e um companheiro está posicionado para colocar as algemas nele quando eu recebo um toque no ombro. Eu posso ouvir meu coração batendo forte, eu ouço a minha respiração em câmera lenta, não me virei sabendo da ameaça, pronta para atacar e sinto como se eu tivesse sido atingida. Uma sensação de náusea tomou conta de mim, eu balancei minha cabeça como se a cegueira que estava sentindo pudesse ir embora.
Terça-feira – 16:58 horas: A limpeza foi feita e nós estávamos nos preparando pra mandar as crianças para casa. "Lembrem-se de praticar a esperança essa semana e sejam corajosos como o Terry, porque ás vezes a esperança é encontrada nas coisas corajosas que fazemos." As crianças, cansadas ​​de correrem por uma hora, com  a mente preenchida pela história e com seus corações cheios de esperança, partiram correndo.
Quarta-feira – 08:27 horas: "Treinadora Aprill" …. Fui atingida novamente, ofuscada, não com um soco ou algum objeto inanimado, mas com um conjunto de grandes olhos castanhos, cheios de esperança. Eu saltei e agarrei o Benjamim para tirá-lo da sala esperando poder protegê-lo de ver o que estava para acontecer  com seu pai, Jamal.
Quinta-feira –  07:30 horas: Estou tranquila na sala de reuniões do escritório vendo as instruções de prisão de Jamal . Agarrada com a tristeza que eu estava sentindo por Benjamin, eu não tenho a energia para continuar essa conversa. Distraída eu me sento em silêncio com a esperança de que Benjamin entendeu que na terça-feira eu era a "Treinadora April " e quarta-feira eu era "Policial Aprill" e em ambos os dias, eu só queria dar esperança.
Seja corajoso Benjamin, Seja corajoso!
A história de April me lembrou da importância da Esperança numa instituição educacional.
Enquanto a realidade do dia a dia do Benjamim parece distante da nossa, a esperança de uma criança em ser apoiada, amada, guiada e nutrida é comum entre todas as crianças, independente do contexto. Em nosso mundo, nós temos a tendência de evitar palavras como lutar e esperança, mas quando se lida com um futuro, normalmente temos pouco controle e uma  deferência a esperança é, às vezes, conveniente.
Embora não possamos controlar o futuro, nós podemos influenciar o presente através da nossa responsabilidade em oferecer o melhor programa educacional para todas as crianças possíveis. No poema de Kahlil Gibran, "On Children", ele emprega uma metáfora pungente para descrever essa relação entre adultos e crianças: "Vós sois os arcos dos quais vossos filhos, como flechas vivas, são enviados."
São nossos arcos, representando escolas e famílias, que devem ser fortes, porém flexíveis, visionários porém realistas e ainda, compreensíveis. E assim, podemos esperar que com confiança, o nosso trabalho no presente vai garantir que as nossas "flechas" vão ser guiadas com velocidade e precisão em relação aos seus respectivos potenciais.
Então, quais são as minhas esperanças para o próximo ano? A minha esperança é que ninguém nunca desista de uma criança. A minha esperança é que todos os nossos alunos alcançem todo seu  potencial . A minha esperança é que a EAB faça diferença positiva na vida de todos os que se conectam com a nossa comunidade. E, através do desenvolvimento de parcerias significativas para apoiar a aprendizagem dos alunos e a busca incessante da excelência e melhoria contínua, faz parte da minha esperança que o nosso trabalho no presente forneça a base para uma vida de satisfação e realização.
Barry Dequanne
Diretor Geral
Reference: Dequanne, A. (2011). Hope Collides. In: Sheedy, A (Ed.). Red coat diaries: true stories from the Royal Canadian Mounted Police (pp. 142-144). Oakville, ON: Mosaic Press.
Featured image: cc licensed ( BY NC ND 2.0 ) flickr photo by david.ian.roberts: http://www.flickr.com/photos/dirpics/195603091/lightbox/
Escola Americana de Brasília