During this week's AdvancED conference, Will Richardson, a leader in the area of social online learning networks and education, shared a thought provoking key note address. While the presentation associated with the talk may be difficult to follow out of context, there are striking photos and quotes that may be of interest and can be viewed through the following link: Will Richardson Presentation. In terms of the talk, there are two main points I would like highlight in this posting.
Scarcity versus Abundance
The talk referred to a "period of scarcity" in education when teachers were the keepers of knowledge and bestowed this information on students through traditional schooling structures. Access to information for students relied heavily on classroom settings in brick-and-mortar buildings. This paradigm has been substantially shifted through advances in technology. While students previously accessed information through their teachers and the selection of books in their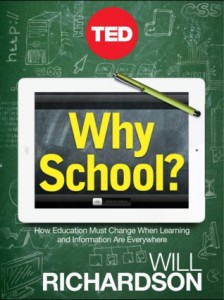 classrooms and libraries, students can now access, arguably, the entire sum of human knowledge through a single handheld device.  How do educators transform instructional approaches from a model that addressed scarcity of information to one where there is an overabundance? This is a question without a clear answer, which makes the issue both exciting and formidable. What we do know is that the shift from scarcity to abundance makes schooling look very different from the schooling of today's adults.
Change is Not an Option
Schools that choose to ignore the transformative societal changes taking place around us do so at their own peril.  Clay Shirky, a writer who focuses on the social and economic effects of Internet technologies, believes that, "the change we are in the middle of isn't minor…and it isn't optional."  Schools will continue to face tremendous challenges as they redefine schooling such that student learning embraces an era of abundance of information, rather than clinging to a model based on a premise of scarcity.  In my current role as a school director, I can assure you that the challenges before us can feel a bit daunting at times. However, these same challenges represent an exciting and important challenge for all educators. Change is not an option given the now ubiquitous presence of technology that is redefining significant aspects of our lives. When referring to learning and technology, Will Richardson stated that students are waiting for adults to catch up to them.  I would modify this statement, as I believe students are not waiting but, rather, rushing forward with or without us. Schools must find a way to lead through this transformation, rather than continuously playing "catch up.
Barry Dequanne
Featured image: cc licensed ( CC BY 2.0 ) flickr photo by Milica Sekulic: http://www.flickr.com/photos/ywds/310670770/