We all experience those days when our schedules seem to demand more of our time than hours are available in the day. It is often these same days when we feel most focused, effective, and efficient, especially in terms of completing our "to do" lists. It is also common during these times to engage in seemingly countless brief conversations with friends, families, colleagues, and strangers. While these ephemeral conversations may be lost and forgotten in the shuffle of a frenetic day, it is these same conversations that may represent, for example, a critically important moment for an individual, the idea for a transformative project, or a fundamental change in personal circumstances. While it is easy to dismiss these brief conversations while in the process of fulfilling a busy agenda, these same conversations may result in being the most important outcome of our day.
In his book, Triumph of the City, Zappos' CEO Tony Hsieh refers to the brief meetings with others that lead to significant outcomes as "serendipitous encounters." Hsieh extends this idea with the statement:
"Research has shown that most innovation actually happens from something outside your industry being applied to your own. And those are the results of random conversations at …coffee shops or just when you have collisions with other people."
Hsieh's thoughts were not on my mind during a typical busy day when I was quickly introduced to the conductor of the National Theater Symphonic Orchestra. While this chance encounter lasted no more than forty-five seconds, it would lead to one of the most memorable evenings in our community's recent history. Through the work of our leadership team, it was only a few weeks later when one of Brazil's top orchestras spent a full day at our school educating and rehearsing with students. The evening performance took place in our auditorium in front of a capacity audience that was fully representative of our diverse community. The performance was moving and inspirational. Brazil's Rede Globo network covered the performance and shared the following video clip during the station's news broadcast.
On another occasion, a member of the Parent-Teacher Organization (PTO) briefly shared, in passing, the idea to host at our school a public display of one of Brasilia's most famous artists. This brief encounter led to a very special community evening vernissage to celebrate the work of Athos Bulcão, which included several original works displayed at our school for several weeks (Link to Virtual GalleryLink to Virtual Gallery).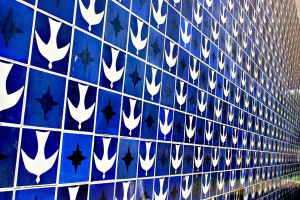 "Artista eu era. Pioneiro eu fiz-me. Devo a Brasília esse sofrido privilégio. Realmente um privilégio: ser pioneiro. Dureza que gera espírito. Um prêmio moral".
~ Athos Bulcão
A third brief encounter led to the University of Brasilia's Opera Studio presenting at our school an outstanding performance of Gaetano Donizetti 's opera Don Pasquale. Two EAB students were invited to perform with the orchestra, representing a special and unique experience for our student musicians.

These serendipitous encounters led to innovative enhancements associated with the appreciation of the arts and a better understanding of Brasilia's cultural heritage. Reflecting on key events and the innovative changes implemented at our school in recent years, many of these outcomes can be traced back to a serendipitous encounter that could have easily been missed if those involved were not paying attention or took the time to genuinely listen to others.
As educators, we tend to fiercely protect our schools and domains as teachers and school leaders. However, we may be guilty, at times, of responding in a seemingly defensive manner to different ideas and perspectives offered by those not associated with education. There is much to learn from others, especially those who see schools through a different lens, and it is our responsibility to not only embrace and explore new ideas, but to model for our students the ideals related to the process of continuous growth and development.
Serendipitous encounters are not limited to institutional events but also include those daily encounters with friends, family, colleagues and students. While a thirty-second encounter with a student, for example, may seem to carry little weight from an adult's perspective, to the student, the encounter may represent a significant moment that will be internalized for years to come.
Whether our brief meetings with others lead to the innovative institutional changes highlighted by Tony Hsieh or make a real difference in the life of a student, we have a responsibility to remind ourselves of the importance of our interactions with others and the possible far-reaching implications that may result from these brief encounters.
___________________________________________________________________________
Conexões Afortunadas
Todos nós passamos por dias em que nossas agendas parecem exigir mais do nosso tempo do que as horas disponíveis no dia. Geralmente, nesses mesmos dias, nos sentimos mais focados, eficazes e eficientes, especialmente quando falamos em completar nossas listas de "afazeres". Também é comum nessas épocas, nos envolvermos em inúmeras, aparentemente rápidas, conversas com amigos, familiares, colegas e estranhos. Enquanto essas rápidas conversas podem se perder ou ser esquecidas no meio da confusão de um dia frenético, elas também podem representar, por exemplo, um momento extremamente importante para uma pessoa, ou uma idéia de um projeto transformador, ou uma mudança fundamental na circunstância em questão. Embora seja fácil ficar livre dessas breves conversas, já que estamos tentando nos ajustar a uma agenda cheia, essas mesmas conversas podem resultar no ponto mais importante do nosso dia.
Em seu livro, Triumph of the City, o diretor executivo da Zappos, Tony Hsieh, refere-se aos breves encontros que resultam em algo significativo como: "encontros afortunados". Hsieh estende essa idéia com a seguinte declaração:
""Pesquisas mostraram que a maioria das novidades acontece fora da sua indústria e então são aplicadas dentro dela. E esses são os resultados das conversas aleatórias que acontecem em cafés, ou apenas por esbarrar com outras pessoas".
Os pensamentos de Hsieh não estavam na minha mente no dia em que eu fui rapidamente apresentado ao maestro da Orquestra Sinfônica do Teatro Nacional. Apesar desse encontro casual não ter durado mais do que 45 segundos, ele levou a uma das noites mais memoráveis na história da nossa comunidade. Através do trabalho da nossa equipe de liderança, poucas semanas depois, uma das melhores orquestras do Brasil passou um dia inteiro na nossa escola, ensinando e ensaiando com os alunos. A apresentação naquela noite aconteceu no nosso auditório, em frente a uma platéia repleta da nossa comunidade tão diversificada. A apresentação foi comovente e inspiradora. A Rede Globo (uma emissora de TV brasileira) cobriu o evento e compartilhou as imagens na transmissão das notícias.
Em outra ocasião, um membro do PTO, compartilhou rapidamente comigo a idéia de fazermos na nossa escola uma exposição de um dos artistas plásticos mais famosos de Brasília. Esse rápido encontro levou a uma noite de vernissage para comemorarmos o trabalho de Athos Bulcão, que incluiu a mostra de vários painéis do artista na nossa escola por várias semanas. (Link to Virtual Gallery)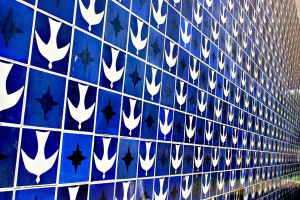 "Artista eu era. Pioneiro eu fiz-me. Devo a Brasília esse sofrido privilégio. Realmente um privilégio: ser pioneiro. Dureza que gera espírito. Um prêmio moral".
~ Athos Bulcão
Um terceiro breve encontro levou a apresentação da Ópera Studio, da Universidade de Brasília, na nossa escola. Foi um excelente desempenho da ópera de Gaetano Donizzeti, a ópera Don Pasquale. Dois dos nossos alunos foram convidados para tocar junto com a orquestra, representando uma experiência única e especial para os nossos alunos músicos.

Esses encontros afortunados levaram a melhorias inovadoras associadas à apreciação das artes e a uma melhor compreensão da herança cultural de Brasília. Ao refletir sobre os principais eventos e sobre as mudanças inovadoras desenvolvidas na nossa escola nos últimos anos, muitos desses resultados podem ter sido causados por encontros afortunados que, poderiam ter sido perdidos caso os envolvidos não estivessem atentos ou com tempo para realmente ouvir outras pessoas.
Como educadores, temos a tendência de protegermos ferozmente as nossas escolas e domínios como professores e dirigentes escolares. No entanto, podemos ser culpados, às vezes, por reagirmos de uma forma, aparentemente, defensiva a diversas idéias e perspectivas oferecidas por pessoas que não estão ligadas a educação. Há muito que aprender com os outros, especialmente aqueles que vêem as escolas através de outra visão. É nossa responsabilidade, não só abraçar e explorar novas idéias, mas modelar nossos alunos aos ideais relacionados ao processo de crescimento e desenvolvimento contínuo.
Encontros afortunados não se limitam a eventos institucionais, mas também incluem os encontros diários com amigos, familiares, colegas e alunos. Enquanto um encontro de 30 segundos com um aluno, por exemplo, pode parecer ter pouco peso a partir da perspectiva de um adulto, para esse aluno, pode representar um momento significativo que será internalizado pelos próximos anos.
Se os nossos breves encontros com outras pessoas levarem às mudanças institucionais inovadoras destacadas por Tony Hsieh ou se fizerem uma diferença real na vida de um aluno, então temos a responsabilidade de nos lembrar da importância de nossas interações com as outras pessoas e com as possíveis implicações que esses rápidos encontros possam trazer.
___________________________________________________________________________
Featured image: cc licensed (CC BY-NA 2.0) flickr photo by Marcos Molina – Tocando el violín https://www.flickr.com/photos/larou/3462594915